Concrete applications
Solutions adapted to all industrial needs

A team of drone experts
A personalized service
MILTON's teams are trained to meet your needs with customized solutions. Performance, technologies, payloads, training, maintenance: you can determine with our teams the specifications of the offer that will perfectly meet the challenges of your project and adapt to your procedures.
Discuss with our team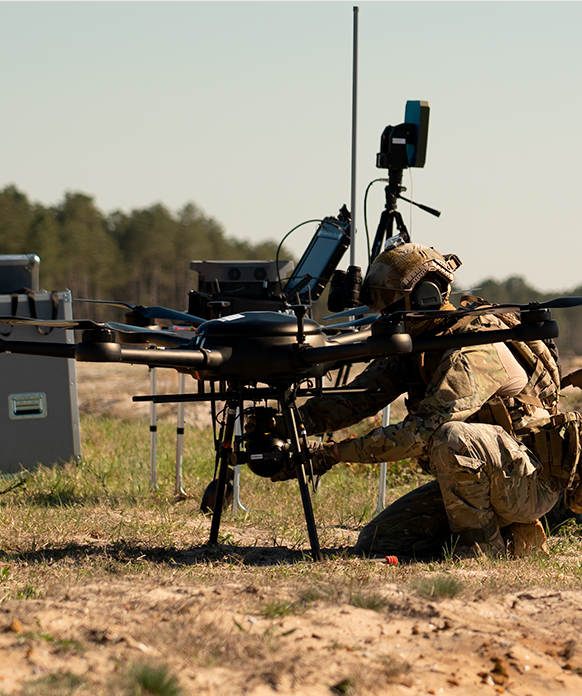 Our DNA
Precision. Expertise. Adaptability.
Founded by a former member of the French special forces, MILTON is proud to supply the Defense forces since 2017 with state-of-the-art drones made in France. Today, MILTON puts its expertise, rigor and extreme adaptability to the service of all profesionnals with global, innovative and immediately operational solutions.
Material tested in operational condition
100% made in France design and manufacturing
Global support (training and maintenance)
Customized solutions (technologies and services)
Experienced team from the defense and aeronautics industries
Learn more about our expertise
Professional drones and 360° service
Global support to governments and industries
Our clients

French military excellence at the service of States and industries
MILTON offre son expertise aux unités étatiques et aux entreprises privées avec un seul objectif en tête : leur fournir des solutions ultra performantes et parfaitement adaptées à leurs usages. Testés en conditions réelles et dans des contextes extrêmes, nos drones et nos systèmes automatisés s'adaptent à tous les cas de figure.
Industrials
Airports
Mining site
Oil rig
Nuclear power stations
Energy companies
Construction
Farming sites
Access our e-shop
Governments
Armed forces and defense
Police forces
Fire Department
Rescue Services
Jails
Administration sites
The ambassies
Log in to the secure portal