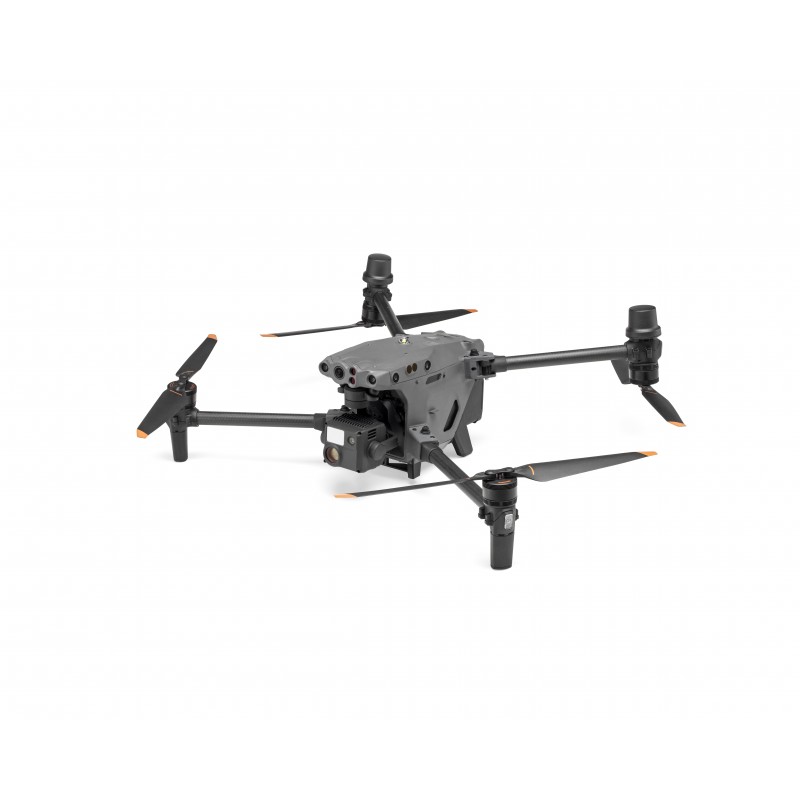  
Other version(s) available
Hybrid drone between the Mavic 2 Enterprise Advanced and the Matrice 300RTK
Compact and lightweight drone (3.77kg)
Triple sensor: wide angle, zoom and laser rangefinder 
D-RTK2 compatible
Read more
Technical specifications
Matrice 30
DRONE

Flight time
41 minutes
Wheelbase
668 mm
Weight (with batteries)
3.77kg
Maximum Take Off Weight (MTOW)
3.998kg
Application
DJI Pilot 2
GNSS
GPS, Galileo, BeiDou
Operating frequency
2,400 à 2,4835 GHz ; 5,725 à 5,850 GHz
Capacité RTK
Yes (D-RTK optionnal)

SÉCURITÉ

IP Rating
IP55
Sensing system
Multidirectional
Altitude / flight ceiling
7000 m (estimated)
Operating Temperature
De -20 à +50°C
Max Wind Speed Resistance
54 km (15m/s)
Max Speed
82.8km/h (23m/s)
Internal storage
NC
External storage
NC

CAMÉRA

Sensor
Zoom sensor : CMOS 1/2'' 48MP ; wide angle sensor CMOS 1/2'' 12MP
Zoom
Optical zoom x16, total zoom x200
Focal length
24 mm
Video resolution
4K (3840x2160)
Video format
MP4
Picture resolution
8K (7680x4320)
Photo format
JPEG
Camera mode
NC

RANGEFINDER

Wavelength
905 nm
Measuring range
3 - 1200 m
Measuring accuracy
0,2 m

CONTROLLER

Type
DJI RC Plus 7''
Lipo 6S
Frequencies
2.400 - 2.483 GHz ; 5.725 - 5.850 GHz
Radio range
8 km (CE) / 15 km (FCC)
Video output
NC
Video return resolution
1080p (unconfirmed), 1200cd/m² brightness

BATTERY

Capacity
5880 mAh
Voltage
26.1V
Weight
685 gr
Self-heating capacity
Yes
Reloading time
TBC
Airline compatible
Yes
Product content
Matrice 30
1x DJI M30 Drone
1x DJI RC Plus remote control
2x Batteries TB30
1x BS30 charging station
1x Carrying case (drone)
1x Carrying case (RC Plus)
Warranty : 24 months
Other version(s) available
Complete description
Matrice 30
Matrice 30, the latest compact hybrid drone.
There was a gap in the mini-drone market that DJI has been quick to fill. The Matrice 30 is on the same level as the Matrice 300RTK and its Zenmuse H20 and H20T sensors, but in a smaller format (only 3.7kg) and more resistant, especially in bad weather (IP 55).
Thanks to its new TB30 batteries, the drone reaches 41 minutes of autonomy and resists winds up to 83km/h.
Hybrid cameras: the asset of your missions
Like its brother drone, the Matrice 300RTK, the Matrice 30 has several state-of-the-art sensors:
1/2'' CMOS 12MP wide angle camera, 24mm focal length equivalent
1/2'' CMOS 48MP zoom camera with x5 - x16 optical zoom and x200 total zoom, 8K images
laser rangefinder up to 1200m. Accuracy: +/- (0,2m + D*0,15%)
The other version of the range (Matrix 30T) has in addition to these 3 sensors a thermal sensor 640x512 @30Hz, equivalent focal length 40mm.

Customized drone pack
Let's build your pack together
MILTON's teams are trained to meet your needs with customized solutions. Performance, technologies, payloads, training, maintenance: you can determine with our teams the specifications of the offer that will perfectly meet your needs and adapt to your procedures.