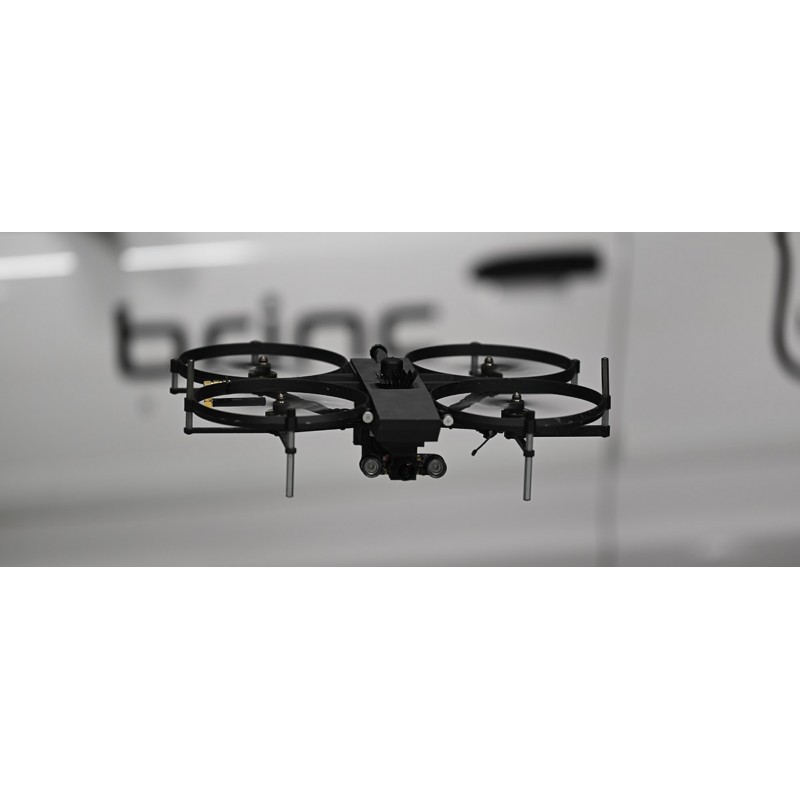  
Drone indoor nouvelle génération
Hélices entièrement fermées (permettant au drone de rebondir sur les murs et de pousser les portes)
Équipé d'un puissant système de communication bidirectionnel
Microphone intégré
Nacelle modulable
Read more
Technical specifications
Lemur S
| | |
| --- | --- |
| Temps de vol | 31 minutes |
| Wheelbase | NC |
| Poids (avec batteries) | 1,1 kg |
| Maximum Take Off Weight (MTOW) | NC |
| Application | NC |
| GNSS | NC |
| Operating frequency | 2,400 à 2,4835 GHz, 5,725 à 5,850 GHz |
| Capacité RTK | NC |
| IP Rating | IP24 |
| Détection d'obstacles | NC |
| Altitude / flight ceiling | 6000 m |
| Température de fonctionnement | De -29 à +49°C |
| Résistance maximale au vent | NC |
| Vitesse maximale | 80.5 km/h (22.22m/s) |
| Internal storage | 64 Go |
| External storage | NC |
| Radio range | 9km (CE) / 13km (FCC) |
| Video output | HDMI |
| Video return resolution | 1080p |
| Reloading time | 45 minutes pour 90% |
Product content
Lemur S
1x Drone LEMUR S
1x Module caméra EO/IR
2x Batteries
1x Radiocommande BRINC
1x Chargeur multiple avec câble
4x Cartes Micro-SD 64GB
1x Trousse à outils BRINC
1x Ensemble de pièces détachées (dont 1 pochette, 1 set de lentilles IR, 1 antenne cellulaire à angle droit, 1 adaptateur SMA, vis et écrous de rechange)
1 x Pelicase
Garantie 12 mois
Complete description
Lemur S
Le Lemur S est un drone indoor conçu par la marque américaine BRINC qui dispose d'une autonomie confortable de 31 minutes. Sa fonction Turtle permet au drone de se retourner de façon autonome lorsqu'il se retrouve au sol sur le dos et repartir en vol.
Ce drone est idéal pour les missions de secours grâce à ses accessoires permettant le bris d'une vitre par exemple pour pénétrer rapidement dans un bâtiment. Il a la possibilité également de monter et descendre des escaliers et ouvrir des portes intérieures qui sont entrouvertes. Sa nacelle modulable permet au Lemur S de transporter un large choix de charges utiles. 
Le LEMUR S est résistant à l'eau, est capable de voler dans des conditions de vent élevé, sous terre et peut fonctionner dans des conditions extrêmes comme des vents forts, il a la capacité de voler sous terre et peut fonctionner à des températures extrêmement basses et élevées.
Les données ne quittent l'écosystème BRINC que lorsqu'une connexion physique est établie avec le matériel, ce qui garantit la sécurité des données. Toutes les communications des drones sont sécurisées et cryptées en utilisant AES 128 ainsi que d'autres technologies confidentielles.
Complete with more accessories
Related to Lemur S

Customized drone pack
Let's build your pack together
MILTON's teams are trained to meet your needs with customized solutions. Performance, technologies, payloads, training, maintenance: you can determine with our teams the specifications of the offer that will perfectly meet your needs and adapt to your procedures.