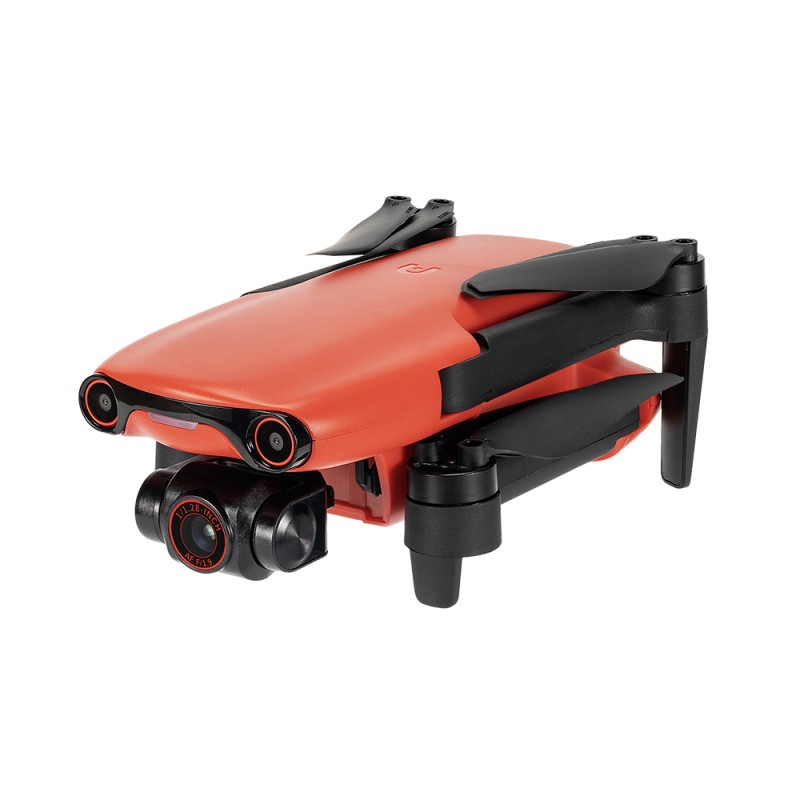  
Other version(s) available
Drone très léger (249 grammes)
28 minutes d'autonomie
Capteur CMOS 1/1.28'' 50 MP
Capture des images nettes dans des environnements de faible luminosité
Read more
Technical specifications
EVO Nano +
DRONE

Temps de vol
28 minutes
Wheelbase
231 mm
Poids (avec batteries)
249 grammes
Maximum Take Off Weight (MTOW)
249 grammes
Application
Autel Sky
GNSS
GPS, GLONASS, Galileo
Operating frequency
2.400-2.4835GHz ; 5.725-5.850GHz ; 5.150-5.250GHz
Capacité RTK
Non

SÉCURITÉ

IP Rating
NC
Détection d'obstacles
Multidirectionnelle
Altitude / flight ceiling
4000 m
Température de fonctionnement
0℃ ~ 40℃
Résistance maximale au vent
38 km/h (10 m/s)
Vitesse maximale
54 km/h (15 m/s)
Internal storage
0 Go
External storage
256 Go

CAMÉRA

Sensor
CMOS 1/1.28'' 50MP
Zoom
x 16
Focal length
23 mm
Video resolution
3840x2160 p30/25/24
Video format
MP4/MOV
Picture resolution
50MP:8192x6144
Photo format
JPG (8 bits) / DNG (10 bits) / JPG + DNG

CONTROLLER

Frequencies
2.400-2.4835GHz ; 5.725-5.850GHz ; 5.150-5.250GHz
Radio range
6 km (CE) / 10 km (FCC)
Video output
USB Litning, USB-C

BATTERY

Type
LiPo 2S
Capacity
2250 mAh
Voltage
7.7 V
Weight
NC
Self-heating capacity
Non
Reloading time
90 minutes
Airline compatible
Oui
Product content
EVO Nano +
1 x Drone EVO II Nano +
1 x Radiocommande
1 x Câble de charge USB-C
3 x Câbles pour radiocommande
1 x Hélices (paire de rechange)
8 x Vis de rechange
1 x Tournevis 
1x Guide d'utilisation
Garantie : 24 mois
Other version(s) available
Complete description
EVO Nano +
Le drone Evo II Nano vient compléter la gamme Evo en proposant un système compact, plus léger (249 grammes seulement) et une autonomie de 28 minutes.
Comme le modèle Lite, l'Evo II Nano est disponible en deux versions:
Version Nano + :
Cette version est équipée d'un capteur 1/1,28'' CMOS accompagné d'une résolution photo 50MP. Il présente des capacités supérieures en termes de réduction de bruit tout en étant capable de capturer des images de qualité dans des environnements très sombres. 
Une autre version de la gamme EVO II Nano est disponible : EVO II Nano. L'appareil photo du Evo II Nano possède une résolution photo de 48MP et démontre une stabilisation sans faille grâce à sa nacelle stabilisée sur trois axes. Son capteur 1/2'' CMOS permet la prise d'images d'excellente qualités.
Des fonctions intelligentes sont possibles comme le « Dynamic Track 2.1 » par exemple qui permet de suivre un humain ou un objet automatiquement. 
L'application Autel Sky propose le partage facile et rapide des photos et vidéos lorsque le drone est à proximité du smartphone.
Autel Robotics fournit ce modèle en quatre couleurs : Blanc arctique / Deep Space Grey / Blazing red / Autel Orange. 

Customized drone pack
Let's build your pack together
MILTON's teams are trained to meet your needs with customized solutions. Performance, technologies, payloads, training, maintenance: you can determine with our teams the specifications of the offer that will perfectly meet your needs and adapt to your procedures.