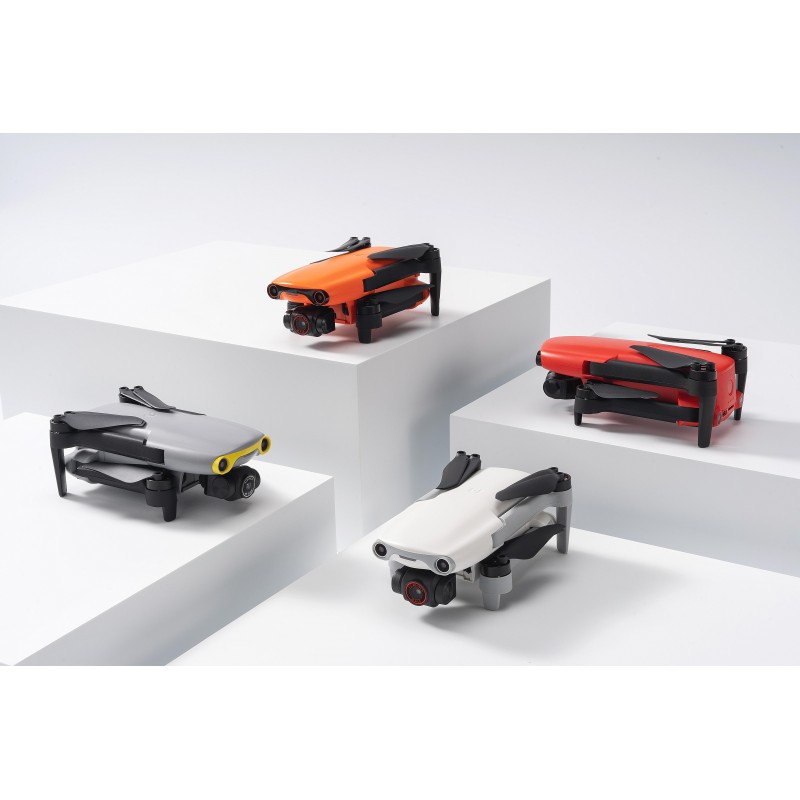  
Other version(s) available
Very light drone (249 grams)
28 minutes of autonomy
1/2'' 48 MP CMOS sensor
Read more
Technical specifications
EVO Nano
DRONE

Flight time
28 minutes
Wheelbase
231 mm
Weight (with batteries)
249 gr
Maximum Take Off Weight (MTOW)
249 gr
Application
Autel Sky
GNSS
GPS, GLONASS, Galileo
Operating frequency
2.400-2.4835GHz ; 5.725-5.850GHz ; 5.150-5.250GHz
Capacité RTK
No

SÉCURITÉ

IP Rating
NC
Sensing system
Multidirectional
Altitude / flight ceiling
4000 m
Operating Temperature
0℃ ~ 40℃
Max Wind Speed Resistance
38 km/h (10 m/s)
Max Speed
54 km/h (15 m/s)
Internal storage
0 Go
External storage
256 Go

CAMÉRA

Sensor
CMOS 1/2'' 48MP
Zoom
x 16
Focal length
24 mm
Video resolution
3840x2160 p30/25/24
Video format
MP4/MOV
Picture resolution
48MP:8000x6000
Photo format
JPG (8 bits) / DNG (10 bits) / JPG + DNG

CONTROLLER

Frequencies
2.400-2.4835GHz ; 5.725-5.850GHz ; 5.150-5.250GHz
Radio range
6 km (CE) / 10 km (FCC)
Video output
USB Litning, USB-C

BATTERY

Type
LiPo 2S
Capacity
2250 mAh
Voltage
7.7 V
Weight
NC
Self-heating capacity
No
Reloading time
90 minutes
Airline compatible
Yes
Product content
EVO Nano
1 x Drone EVO II Nano
1 x Radio control
1 x USB-C charging cable
3 x Radio control cables
1 x Propellers (spare pair)
8 x Spare screws
1 x Screwdriver 
1 x User Guide
Warranty: 24 months
Other version(s) available
Complete description
EVO Nano
The Evo II Nano drone completes the Evo range by offering a compact, lighter system (249 grams only) and a 28 minutes autonomy.
Like the Lite model, the Evo II Nano is available in two versions:
Nano version:
The Evo II Nano's camera has a 48MP photo resolution and demonstrates seamless stabilization with its three-axis stabilized pod. Its 1/2'' CMOS sensor allows the capture of excellent quality images.
Another version of the EVO II Nano range is available: EVO II Nano +. This version is equipped with a 1/1,28'' CMOS sensor with a 50MP photo resolution. It has superior capabilities in terms of noise reduction while being able to capture quality images in very dark environments. 
Intelligent functions are possible such as "Dynamic Track 2.1" for example, which allows to follow a human or an object automatically. 
The Autel Sky application offers quick and easy sharing of photos and videos when the drone is close to the smartphone.
Autel Robotics provides this model in four colors: Arctic White / Deep Space Grey / Blazing red / Autel Orange. 

Customized drone pack
Let's build your pack together
MILTON's teams are trained to meet your needs with customized solutions. Performance, technologies, payloads, training, maintenance: you can determine with our teams the specifications of the offer that will perfectly meet your needs and adapt to your procedures.